Join Noëlle and Tom Crowe on a Domestic Pilgrimage in 2022!
We are excited to announce two more great pilgrimages in America that are in the works for 2022.
We are excited to announce two more great pilgrimages in America that are in the works for 2022:
Historic Maryland & Northern Virginia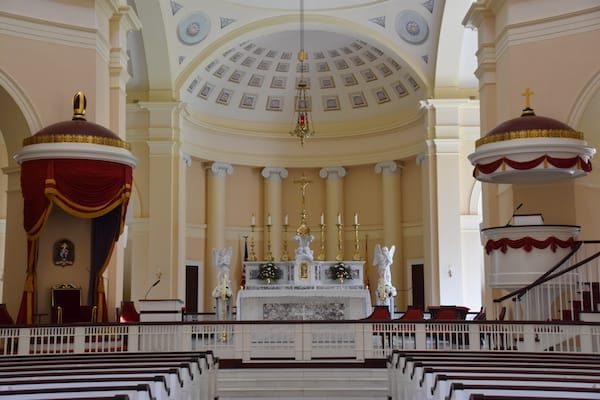 The sanctuary of the Basilica of the National Shrine of the Assumption of Mary, the first cathedral of Baltimore, and the first built in the United States.
Pilgrimage to the places where Catholics first began to become Americans, and to make a Catholic mark on America.
Basic Package Price: $2,299
Land only, double occupancy. Full details coming soon.
Trip Summary
Maryland and Northern Virginia were not places Catholics were welcome for much of the colonial period. This was in spite of Maryland originally being established as a haven for Catholics in the 1630s. But Catholics fought for their rights during the colonial years, and then, when the new Constitution and Bill of Rights guaranteed religious liberty, Catholics were ready to contribute to this new nation that protected their right to practice the faith.
St. Mary City • St. Clement Island • Port Tobacco • the Baltimore Basilica • Doughoregan Manor • Carroll House and St. Mary Church in Annapolis
The Basilica of Our Lady Help of Christians high atop Holy Hill, a sacred site outside of Milwaukee.
Pilgrimage to the land of a Marian Apparition, astounding churches, deep Catholic history, and cheese.
Wisconsin has seen many waves of Catholics come through over the years. French, English, Belgian, German, Irish, Polish, and more. Some remarkable occurrences – even miraculous — have taken place, and the legacy of these holy people lives on.
In episode 38, "St. Josaphat Basilica," Tom and Noëlle talk about how the pastor of St. Josaphat in Milwaukee repurposed a Chicago federal building to build a new church for his Polish congregation.
In episode 63, "Holy Hill," Tom and Noëlle talk about the Basilica of Our Lady Help of Christians and the legendary history of the hill it sits atop, called "Holy Hill" due to the many miracles and favors granted there.
And in episode 95, "The Apparition of Our Lady, Help of Christians," Tom and Noëlle talk about the only approved Marian apparition in the United States, and the Belgian girl who experienced the apparition.
See sites associated with these episodes, plus other possible sites include…
Our Lady of Guadalupe Shrine • Schoenstatt Shrine • Rudolph Grotto • St. Joan of Arc Chapel
Full Details and Registration
We are pleased to work with the wonderful people at 206 Tours to make these pilgrimages possible. 206 Tours has been in the travel and pilgrimage business for a long time, and they know how to take care of their guests.
As soon as dates are confirmed and registration is open we will post them here!
Or we can let you know!
Fill out the form below or email us at [email protected] and let us know you'd like to be alerted when these details are available!